Raising awareness of drowning prevention one family at a time.
"Love never gives up, never loses FAITH, is Always Hopeful and endures through every circumstance" ( 1 Corinthians 13:7)
Our Mission
Drowning Prevention – Shannon and I feel compelled to help other families avoid the same tragedy. Something good has to come out of us losing our baby Edna Mae. We want to help as many children as possible learn to swim and have their homes prepared to keep children safe. You can have every precaution in place but accidents happen everyday, Children need to know the basic survival skills, so if they fall into a pool or lake they can help themselves. We thought it could never happen to us safe! In our case… When I discussed swimming lessons with other parents, I never fully offered my opinion. I knew deep down that I should get the girls lessons.
#1
Drowning is the number 1 cause of death in children from 1 to 4 years old.
4-5
The state of Florida loses approx. 4 to 5 classrooms full of children every single year.
221
From 2018 to 2020 (3 years) the state of Florida lost 221 children to a preventable drowning.
Get the latest information about McGovern Foundation
"Thank you so very much Em's Place! We are so grateful to be participating in a swim class for our two year old. In the past three months he has made tremendous progress! He had no skills when he began the classes and in a short time he has learned to use his arms and legs, hold his breath, turn around to get back to the wall and crawl along to the steps, and is now working on lifting his head for air. I am confident he will be completely swimming soon. Em's Place is a true blessing!"
Laura and Jonathan Gegerson
"None of us got to where we are alone. Whether the assistance we received was obvious or subtle, acknowledging someone's help is a big part of understanding the importance of saying Thank You…"
Harvey McKay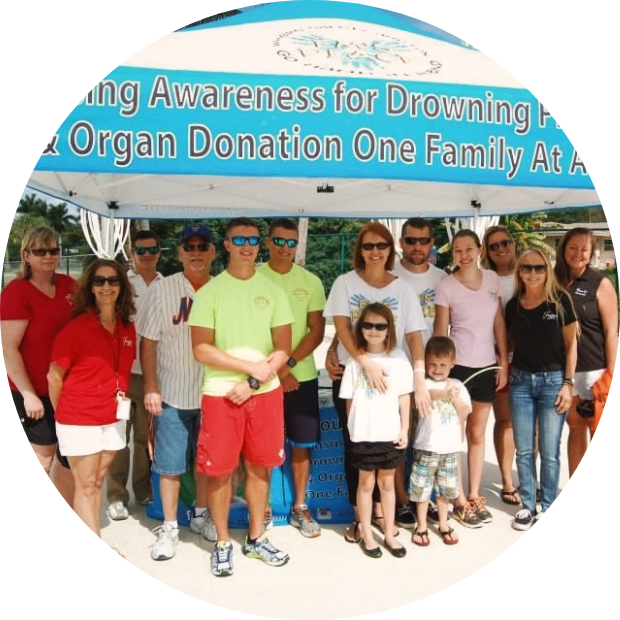 "My daughter, Alexandra, has been taking lessons through Em's place for a couple of months now. I feel blessed that Cassie and Shannon have invited us into their home to help get my daughter swimming. It's wonderful to see that they get as much joy as I do when my daughter (and all the other kids) make improvements in their skills. Thank you Cassie and Shannon and Em's place for helping us. I know we are just one family of so many that you will help."
Alexandra